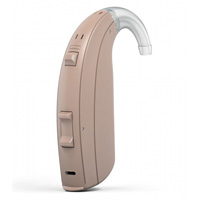 Elite 5 HP
Fully Digital, Programmable 9-Channel BTE Instrument
For Severe to Profound Hearing Losses
FEATURED ONLINE SPECIAL!
2 year parts and labor warranty AND 2 year loss and damage coverage included!!
ELITE offers all the conveniences of a high-tech hearing instrument in an easy-to-wear package. Let the hearing instrument do all the work for you. With features like Made for iPhone®, NoiseTracker 2, DFS Ultra 2 (with Auto DFS), Sound Shaper, Windguard, Adaptive Directionality, Softswitching, Ear-to-Ear Wireless, and Comfort Phone you will immediately notice the enhanced quality of sound no matter the situation. With Environmental Classifier, the hearing aids will automatically classify a sound type, resulting in a completely automatic hearing aid without pressing a button while wearing one of the most advanced products available on the market today. ELITE is a special in-house private label brand for Lloyds featuring the technology of one of the world's leading hearing aid manufacturers.
Compatible with our exclusive and exciting new technology – LiveAssist™ – call for more details
Typical retail $2500 - $3000 each
9-Channels
NEW! Made for iPhone® smart hearing aid - direct audio streaming
4 customized programs + 3 dedicated streaming programs (7 total)
Direct Bluetooth Functionality – pair the hearing aids directly to your iPhone®, iPad®, or iPod® to stream phone calls and music directly to your hearing aids. Use the FREE mobile app for iPhone® to use your smart phone as a remote control (change programs, adjust volume and treble & bass, and check hearing aid battery status)
Environmental Classification – analyzes patterns of energy to distinguish speech from other sounds for precise noise reduction and exceptionally comfortable transitions between listening environments
NEW! Sound Shaper – moves high frequencies down in the spectrum from the inaudible portion of a hearing loss and to the audible portion
Music Mode – preserves music's sound quality while eliminating feedback
NEW! Synchronized Acceptance Manager – gives a gradual and automatic increase in amplification to comfortably adjust
Auto DFS – allows for superior Digital Feedback Suppression performance without needing to calibrate the hearing aids on your ears
Directional Mix Processor – sets the point at which frequencies will be processed as either omni-directional or directional
Remote Control (optional accessory) – controls the volume and changes the listening programs without having to touch the instrument
Tinnitus feature
For Severe to Profound Hearing Losses
Programmable, 9-channel 6-band digital signal processing
NEW! Made for iPhone – direct to hearing aids, smart 2.4 GHz wireless technology
Surround Sound Smart Hearing – smartest hearing aid technology available today
Wireless Technology with optional remote control unit, wireless microphone, and TV streamer
Hands-free way to increase/decrease volume and cycle through preset programs
Basic Adaptive Directionality – cancels out loud sounds behind you, reducing background noise and improving forward-facing focus – especially on speech
Basic Softswitching – comfortably transitions between omnidirectional and directional microphones upon analyzing the environment
NoiseTracker 2 – reduce unwanted noise in noisy situations while allowing a more comfortable listening experience
Expansion – improves sound quality in quiet situations by only amplifying sounds of interest
Windguard – improves listening comfort in situations where wind can occur without compromising speech intelligibility
DFS Ultra 2 – accurately identifies and cancels feedback while at the same time Whistle Control predicts feedback and optimizes amplification in dynamic situations
SmartStart – is a power-on delay that stops feedback while you insert the hearing aid
PhoneNow – automatically switches hearing aids into telecoil program when a telephone is placed near the hearing aid
Ear-to-ear wireless communication
Data Logging – collects information on hearing preferences such as duration of use, volume changes, and program usage so that information can be used for more accurate future programming needs
Speech in Noise Management – minimizes intrusive noise that can interfere with listening enjoyment without compromising speech intelligibility
Multiple Listening Programs – allows you the flexibility to switch between preset memories or programs for optimal hearing in various types of different listening situations. Four (4) programs available + 3 dedicated streaming programs (7 total)
Directional microphone
Background noise reduction
Microphone noise reduction - reduces internal circuit noise when in quiet situations
Automatic Feedback cancellation with AutoDFS
Power-on Delay - optional programming setting that stops feedback for 6 seconds while you work on getting the hearing aid in place
Up to four (4) individual listening programs + 3 dedicated streaming programs (7 total)
Rocker switch function for volume control
Manual push button for program change
Wind noise reduction
Audible alert tones for program change, low battery, and volume change
Size #675 battery
Available colors: beige*, medium blonde*, dark brown*, black*, grey*. Note: (*) indicates special order color
Learn More @ Our Full Site