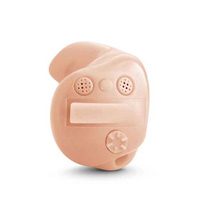 Rexton Sterling 40 Half Shell
Rexton Sterling 40 Half Shell (6c TrueCore)
Fully Digital, Programmable 24-Channel Custom-Made Instrument
For Mild to Moderately Severe Hearing Losses
FEATURED ONLINE SPECIAL!
2 year comprehensive parts and labor warranty AND 2 year loss and damage coverage included!!
REXTON STERLING 40 HALF SHELL offers all the conveniences of a high-tech hearing instrument in an easy-to-wear package. Let the hearing instrument do all the work for you. With features like Voice Ranger, Cross Phone, Advanced Speech Detection, E2E Wireless, Feedback Preventer, Music Enhancer you will immediately notice the enhanced quality of sound no matter the situation. With Automatic Classifier, the hearing aids will automatically classify a sound type, resulting in a completely automatic hearing aid without pressing a button while wearing one of the most advanced products available on the market today. REXTON is a completely owned subsidiary brand of Signia (Siemens) featuring the technology of one of the world's leading hearing aid manufacturers.
Typical retail $2000 - $2500 each
24-Channels
5 customized programs
E2E Wireless 3.0 – is real time streaming of audio between two hearing aids capable of transmitting dual-microphone bidirectional audio data from ear to ear, creating a virtual 8 microphone network
Advanced Speech Detection in Noise – human voice is detected and enhanced over background noises, all while background noises are being reduced and filtered
NEW! Voice Ranger – multiple features work together to ensure you hear the main source of speech, while more distant speech is reduced
NEW! Cross Phone (XPhone) – sound is transferred wirelessly to both hearing aids when phone is held to the ear
Directional iLock – invisible and natural transition between omni and directional microphones
Feedback Preventer – most advanced form of feedback control technology that ensures feedback-free hearing comfort
Automatic Classifier – automatically classifies a sound type, resulting in a completely automatic hearing aid without pressing a button
Multi-Channel Adaptive Directional Microphone – accurately and precisely targets and reduces background noise, allowing better speech understanding in noise
Multiple Listening Programs – allows you the flexibility to switch between preset memories or programs for optimal hearing in various types of different listening situations. Five (5) programs are standard and can be setup for smooth program transitions automatically
Bluetooth Functionality – pair the optional Connexx Smart Connect remote with any smart phone or bluetooth-compatible cell phone to stream high quality telephone and music audio signals directly into your hearing aids, hands-free. Use the FREE mobile app for iPhone® or Android™ to control the functions (change programs, adjust volume and treble, and check hearing aid battery status) of the Connexx Smart Connect direction from your smartphone.
Tinnitus Function ndash; customizable, adjustable and fully-integrated white noise generator for additional management of tinnitus
For Mild to Moderately Severe Hearing Losses
Programmable, 24-channel 12-band digital signal processing
Wireless Technology with optional remote control units
Ear-2-Ear 3.0 wireless technology
Advanced speech and noise management with digital speech detection
Automatic Acclimatization ndash; optional setting so you can slowly build up to the volume you require over time
Adaptive automatic directional microphone
Noise Management – digital analysis, processing, and reduction of noise to allow for improved speech clarity and sound comfort, no matter the environment
Fastest background noise reduction technology
Microphone noise reduction - reduces internal circuit noise when in quiet situations
Most advanced feedback prevention technology available
Sound Smoothing – reduces the intensity of sudden sharp sounds like slamming doors, rustling paper, and crinkling bags to maximize hearing enjoyment
NEW! Music Enhancer – enriches the sound quality of music whether listening to recorded music, live music, or performing music
Smart Automatic Equalizer – a fully customized listening experience based on your individual lifestyle and listening needs without pressing a button
Smart Automatic Acclimatization – allows you to gradually adapt and reach full amplification comfortablys
Sound Locator – mimics the natural directivity of the outer ear
Smart Remote App – control hearing aids via your smartphone (available for iPhone® or Android™)
Smart Connect App – further control of your hearing aids for use with models that are compatible with the Connexx Smart Connect remote
Tinnitus function
Data logging
Autophone/Telecoil
Power-on Delay - optional programming setting that stops feedback for 6 seconds while you work on getting the hearing aid in place. Up to five (5) individual listening programs
Manual volume control wheel (additional features available by remote control)
Manual push-button control for program change
Electronic wind noise cancellation
Audible alert tones for program change, low battery, and volume change
Size #312 battery
Available colors: beige, brown, tan
Learn More @ Our Full Site